Student Mobility
International Studies
On this page you will find up-to-date information on opportunities for international mobility and especially exchange programmes at Heidelberg University and the AWI. Be it through ERASMUS, other programmes or as a freemover, the AWI is happy to support you on your way abroad.
You can also find a lot of information about studying and doing an internship abroad on the website of the International Relations Office of Heidelberg University. The Infocenter for Study and Internship Abroad of the International Relations Office serves as a central point of contact. You can also obtain all the necessary application documents for various exchange programmes there.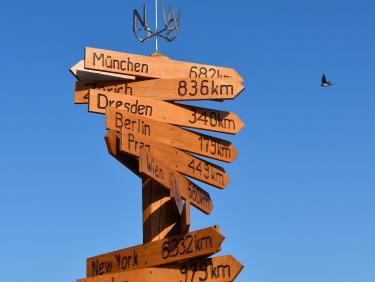 The European mobility programme ERASMUS is designed to enable and promote European academic exchange. For students, this means above all a clear procedure and unambiguity in credit transfer as well as a mobility grant for financial support.
The AWI also offers a number of different ERASMUS places for students: in the spirit of exchange, both for Heidelberg students and for students who would like to spend their time abroad here. Further information can be found on the following pages.
Other Exchange Programmes
Heidelberg University maintains countless relationships with other universities worldwide. Through various exchange programmes, there are therefore also many opportunities for exchange and support on your paths to and abroad.
The 4EU+ Alliance consists of seven European universities committed to the idea of a European university built on academic freedom and autonomy and ensuring equitable access to education.
Students from Heidelberg can also apply for a place at the following partner universities within the alliance. The application takes place via the AWI and follows the procedure of the ERASMUS programme.

Table
University

ERASMUS+ Code

Paris Sorbonne

ERASMUS+ Code: F PARIS004, does not have any faculty for economics.
As a so-called freemover, you organise your stay abroad independently and thus often beyond the wide range of scholarships and cooperations offered by Heidelberg University.
Outgoing
The possibility to freely choose your host university expands the possibilities of mobility even further. At the same time, you will not receive administrative and financial support for such stays within the framework of a programme. Various scholarship programmes can fill this gap, but they require your own initiative.
The application procedures at the various universities are also very individual and may need to be enquired about by you.
Incoming
The AWI is also open to international students who are interested in staying in Heidelberg as freemovers and enables them to attend courses in the Bachelor's programme in Economics. However, since the teaching language here is German and there are a smaller number of English-language courses in the specialisation area, we ask interested students to fulfil the following requirements:
Studies in economics
Knowledge of German and/or English
Letter of motivation
Please contact the student advisory service at AWI for further information on the procedure.