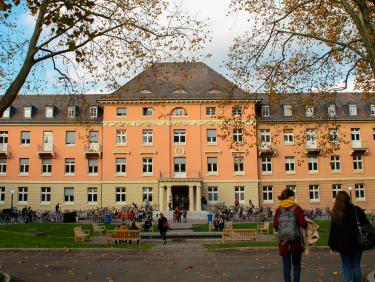 Alfred Weber Institute for Economics

Institute
The location of the Alfred Weber Institute for Economics in the middle of Campus Bergheim offers an excellent working and learning atmosphere for about 1200 students and staff from all over the world. Research and teaching benefit from the creative potential of excellent scientists and modern infrastructure.

Academics
There are three study programmes at the Alfred Weber Institute of Economics: the B.Sc. Economics, an economics bachelor's programme with strong interdisciplinary specialisation options, the M.Sc. Economics, the research-oriented, international Master's programme, and the sub-programme M.Ed. Economics, which, together with other sub-programmes, qualifies students for the teaching profession in economics at the Gymnasium.

Research
Internationally, the Alfred Weber Institute is particularly visible in the fields of economic theory research, especially in the areas of decision and game theory, environmental economics, development and (international) macroeconomics, econometrics, and experimental economics, especially behavioral economics.

People
The Alfred Weber Institute brings together people from different areas of Economics and adjacent disciplines. 21 professors, as well as postdocs and doctoral students, work together on current economic issues.