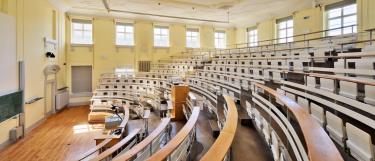 Degree Programmes
The Heidelberg Economics programmes combine traditional economic foci, mathematical and statistical methods for understanding economic models and modern economic approaches (e.g. Behavioural and Experimental Economics). In addition, students can gain insights into neighbouring disciplines such as political science and sociology.

Research and Academics
The Alfred Weber Institute for Economics has 14 professorships and is active in all areas of economic research. At the international level, it is particularly visible in the areas of research in economic theory, in particular in Decision and Game theory, experimental economics research and behavioural economics. Furthermore, there are also special research fields in international and development economics as well as an own research centre for environmental economics. This variety of research interests is also mirrored in teaching, resulting in a research-oriented learning and working atmosphere.

Studying in Heidelberg
Heidelberg is considered one of the most beautiful cities in Germany and is characterised by a high quality of life and living. The city and the region offer a wide range of leisure activities with numerous cultural, sports and recreational opportunities.
Discontinued degree programmes
The state examination programme in political science/economics is being phased out. The relevant GymPO expired on 31.07.2015. For students who were enrolled in a teaching degree programme at Heidelberg University before 01.08.2015, the transitional regulations have applied since the winter semester 2015/ 2016. Enrolment is no longer possible.
If you are interested in becoming a teacher, the new way to become a Gymnasium teacher is via the 50% Bachelor's degree programmes.
Translated with www.DeepL.com/Translator (free version)