Experimental laboratory
AWI Lab
Economic experiments in the AWI Lab help researchers from the Alfred Weber Institute to investigate how people make decisions in economically relevant situations.
Our laboratory is equipped with state-of-the-art facilities. A self-contained network of 20 PC workstations is available.
The AWI Lab is primarily used by researchers from the Alfred Weber Institute for economic experiments. In exceptional cases, advanced bachelor's and master's students (under the supervision of an instructor) can also use the laboratory, e.g. for their thesis work.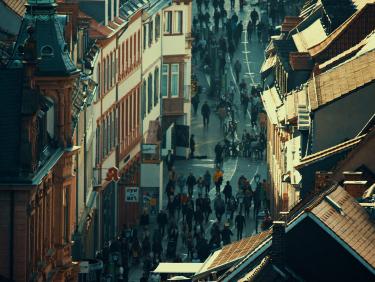 Frequently asked questions (participants)
Table
Frage

Antwort

How can I join the AWI lab subject pool?

To be included in our participant pool, you need create a personal account in our subject management system, Sona. To do this, please visit https://heidelberg-awi.sona-systems.com and click on the "Request Account" button. Provide your first name (e.g., Maria), last name (e.g., Mustermann), and your user ID (e.g., maria.mustermann).

You will receive an email with your login information. You can then use this information to log into the system. After your first login, you will be asked to read and accept our data protection statement and laboratory rules.

Following that, there will be a short prescreening (which takes approximately 4 minutes) with some demographic questions. Please fill this out carefully so that we can select participants based on criteria such as language skills.

Note: You can change your password and provide an alternative email address under "My User Data."

How do I register for experiments?

The selection of participants is typically based on the specific criteria of the planned experiment and an anonymous evaluation of your responses during the prescreening. You will receive an early invitation to participate in an experiment with various scheduling options.

In some instances, self-enrollment for experiments is also possible. To get an overview of such experiments, click on "Available Studies" within the system.

Please note: Participation in experiments is binding in both cases upon registration.

Where is the laboratory located?

The laboratory is located in the basement of the AWI, right next to the computer rooms. From the main entrance, go left and then at the end of the corridor, turn right to access the staircase to the basement. The way to the laboratory is also signposted in these corridors.

What if I register for an experiment, but something else comes up?

You can cancel your registration for an experiment until 6:00 PM on the evening before the scheduled date. To do so, go to "View and Edit My Study Appointments," where you will find a list of all the studies to which you have registered. By clicking on "Cancel," you can withdraw from the respective study. If you need to cancel at very short notice, this option will no longer be available.

Please make sure to cancel your participation in a timely manner if you cannot attend the appointment. Especially in the case of group experiments, unannounced non-attendance can lead to the whole session being canceled.

If, for compelling reasons (e.g., illness), you are unable to attend the scheduled appointment, please promptly contact the researchers via email (you can find their contact information in the description of the respective study).

How much time do experiments usually take? 

Experiments typically last around 15-90 minutes. A more precise time estimate will be provided in the experiment description. Deviations are possible and will be compensated accordingly.

Every participant arriving on time will receive at least a show-up fee.

How much can I earn for participating?

Participants are typically paid in cash; however, in exceptional cases, vouchers or raffles may be possible. If this is the case, you will be informed in the invitation email. The amount paid can depend on your decisions and those of the other participants.

Payment is usually based on the prevailing hourly rate for student research assistants. The final earnings average around €10-15 per hour but often exhibit a high variance. This means that one participant might earn, for example, €3-4 per hour while another may receive €12-16.

Participants are responsible for handling the taxation of the compensation they receive through their individual tax returns. Participation in experiments does not constitute an employment relationship, hence the Alfred Weber Institute does not withhold income tax.

What happens with my data?

The data collected in Sona is solely used for the organization of scientific experiments and is not shared with third parties. We use data for the following purposes:

Organization and planning of experiments
Provision of information and invitations to experiments
Scientifically motivated selection of participants
Verification of the attendance or non-attendance of registered participants

Date generated in experiments is not linked to data on Sona.

How can I delete my personal data?

You can delete your account at any time by going to "My User Data."

Upon request, your collected data will be deleted without any restrictions. To do so, please send a simple, written, and signed deletion request to the Alfred Weber Institute for Economics, AWI-Lab/Recruitment System, Bergheimer Straße 58, 69115 Heidelberg.

I don't study – can I still participate?

Yes, even if you are not studying at the University of Heidelberg, you can still participate in experiments.

Is there a mobile App for Sona?

For Android phones and tablets:

https://play.google.com/store/apps/details?id=com.sona_systems.mobile

For iPhones and iPads:

http://appfinder.lisisoft.com/app/sona-mobile.html
Frequently asked questions (researchers)
Table
Frage

Antwort

Who can get a Sona researcher account?

In general, only members of the Alfred Weber Institute for Economics (academic staff, doctoral students, professors), and, in some cases, external researchers have the opportunity to obtain a researcher account.

How do I get a Sona researcher account?

Please, send an email to lab admin at

https://heidelberg-awi.sona-systems.com

.

How do I create studies on Sona?

Sign in to Sona at https://heidelberg-awi.sona-systems.com.

Click on "Add New Study."

You can choose from the following options:

Standard Study: Participants attend a single session of the study in the laboratory.
Multi-Part Standard Study: Participants attend multiple different sessions of the study in the laboratory.
Online Internal Survey Study: Online study conducted through Sona.
Online External Study: Online study created in an external program (e.g., LimeSurvey) and accessible via a link.
Multi-Part Online External Study: Online study spanning multiple sessions.

What happens if participants do not show up to an experiment?

If a participant fails to attend a session without prior notice, you should mark this as an "Unexcused No-Show." To do this, log in to Sona and select the specific study under "My Studies." Then, go to "View Your Uncredited Timeslots." You can choose "Unexcused No-Show" for the respective person (identified by their four-digit identification code).

If a participant has informed you via email in advance of their absence, for example, due to illness, select "Excused No-Show.

Can I manually sign up participants for an experiment??

You can manually add a participant to a timeslot. Please note: When you do this, there is no guarantee that the participant has not already participated in the study, and you won't have confirmation if they meet the "Eligibility Requirements", if specified.

If you wish to manually add a participant, please log in to Sona. Select the specific study and click on "Timeslots." Here, you can add the participant to the respective timeslot by clicking on "Modify."

How do I deal with seminar or degree theses?

Since students cannot receive a researcher account, the easiest approach is for you to create the study as a researcher for the group or individual, including the timeslots, after consulting with the respective students. Then, it is sufficient to forward the "Upcoming Study Reminder," which Sona sends to you every evening around 6 PM, to the students so they have the information for data collection. You can also set up automatic email forwarding in your email inbox rules. The students only need to report back to you whether the participants showed up.

Important: Do not share your Sona password with students. Sharing your password can lead to data misuse. You are responsible for your account!
Demo-Video: SONA-System für Studierende