M.Sc. Economics
General Information
Course Structure
Application and Admission
Brief Overview

Please note the updated program structure for the winter term 2022. Information can be found
here
.
​

​​

​​
The Master's degree programme in economics is aimed at students who wish to increase their knowledge of and methodological skills in economics following successful completion of a respective Bachelor's programme.
The structure of the programme offers a professional economic education at the graduate level that is based on international standards and is aimed at students with sufficient mathematical and analytical prior knowledge. The main objective of the Master's programme is to enable students to independently conduct scientific work. The programme's teaching focus is on current academic methods and research findings. After graduation, students have an overview of the interconnections within the subject as well as the ability to analyse scientific publications on economics and to independently apply scientific methods and findings to economic issues.
The academic programme enables graduates to work in the public or private sector or to complete a doctorate. In order to prepare students for the international labor market for economists, all courses in the Master's degree programme are held exclusively in English.
The Master's degree programme in economics is a modular programme. The compulsory modules in the first semester comprise microeconomics, macroeconomics, econometrics and mathematics. On the basis of complementary and interdisciplinary elective modules and seminars in economics, students learn methods and topics associated with current research. The elective modules in economics can be chosen from one or more of the following areas of specialisation:
Behavioral and Experimental Economics
Political and Development Economics
Environmental and Ressource Economics
Macroeconomics and Finance
In addition to these fields, courses in other main areas of economics are offered.
In addition, the third semester is intended as a mobility semester in which students can apply for a study abroad programme, for example through the ERASMUS programme, the mobility initiative of the European Union. The credits gained at the respective partner universities can be recognised for the Master's degree programme in Economics.
Students complete the Master's thesis in the fourth semester. For further information on the academic programme, please consult the degree programme schedule or the module handbook.
A completion of the Master's programme requires a total of 120 credit points (CP), out of which 40 credits should come from the compulsory modules, 50 credits from the elective modules and 30 credits from the Master's thesis. Graduates will be conferred the degree "Master of Science" (M.Sc. for short).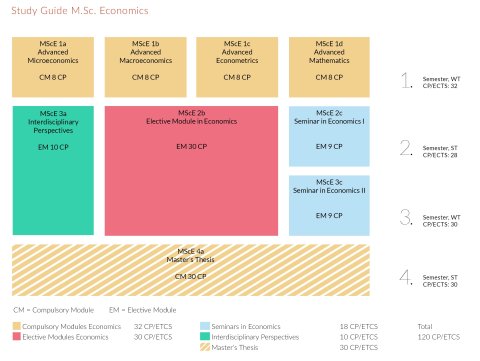 ​
The Master's programme in Economics is access-restricted but not admission-restricted. Information on the current application procedures can be found here

.
Course

Economics

Degree

Master of Science (M.Sc.)

Subject type

100% (major)

Start of course

winter term every year

Normal study time

4 terms

ECTS points

120

Language of instruction

Englisch

Application deadlines

International applicants with an
international Bachelor's degree: 15.06.

German applicants and international applicants
with a German Bachelor's degree: 15.09.

Fees

Examination regulations

Study Guide

Module handbook

Admission regulation
Seitenbearbeiter:
E-Mail
Letzte Änderung: 22.07.2022