Jun.Prof. Dr. Florian Diekert
Contact​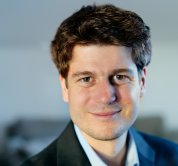 ​​
Room: 217 (FZU)
Bergheimer Str. 20
D-69115 Heidelberg

​​
Phone: +49-(0)6221-54-8013
Email: florian.diekert@awi.uni-heidelberg.de Photo: (c) Fezoni@ storyloop
Office hour: Please make an appointment via
​​
email
Research Interests
Environmental and Natural Resource Economics
Sustainable Development
Game Theory
My work centers on humans and their inter-relations with the social and natural environment. With the help of the ERC Starting Grant "NATCOOP", I aim to generate a better understanding of how nature shapes preferences and incentives of economic agents and how this in turn affects common-pool resource management.
http://www.uni-heidelberg.de/fakultaeten/wiso/awi/professuren/ressourcen/research.html
​

​​
Education and Employment
since August 2016: Assistant Professor (Junior Professor) AWI, Heidelberg University
Oct 2011 – July 2016: PostDoc/Assistant Professor Uni Oslo
Oct 2011 PhD in Economics, University of Oslo
Nov 2007 MPhil in Economics, University of Oslo
Aug 2005 BA in International Relations, TU Dresden
June 2001 Abitur, Kepler Gymnasium Tübingen
Selected publications (full list)
Diekert F, and Schweder T (2017): Disentangling the effects of policy reform and environmental changes in the Norwegian coastal cod fishery, Land Economics, vol.\ 93(4), pp.689-709
Diekert F (2012): Growth Overfishing: The race to fish extends to the dimension of size. Environmental and Resource Economics, vol. 52, pp. 549-572.
Selected work in progress and submitted papers:
Diekert F, Kö

n

ig-Kersting C, and Goeschl, T: Awareness of human cause helps avoid system collapse
Diekert F and RJ: Does nature shape risk- and social preferences? Evidence from Chile, Norway and Tanzania
Seitenbearbeiter:
E-Mail
Letzte Änderung: 05.07.2022