Christoph Becker, M. Sc.
​


​
​​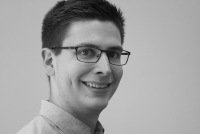 ​​Wissenschaftlicher Mitarbeiter
Alfred-Weber-Institut für Wirtschaftswissenschaften
Behavioral Finance
Bergheimer Str. 58
69115 Heidelberg
​​
Tel. +49 6221 54 2940
Fax. +49 6221 54 3592
E-Mail:​christoph.becker@awi.uni-heidelberg.de
Sprechstunde: nach Vereinbarung per E-Mail
Raum: 01.015
FORSCHUNGSINTERESSEN
---
Entscheidungen unter Unsicherheit, erfahrungsbasierte Entscheidungen (gefördert durch die Friedrich-Ebert-Stiftung); Wohlfahrts- und Glücksforschung
FORSCHUNGSPAPIERE
---
Christoph Becker, Peter Duersch, Thomas Eife, and Alexander Glas: "Extending the Procedure of Engelberg et al. (2009) to Surveys with Varying Interval-Widths",. AWI Discussion Paper Series No. 707, November 2021. [paper]
Becker, C. K. and S.T. Trautmann (2021). Does Happiness Increase in Old Age? Longitudinal evidence from 20 European Countries. [paper]
Becker, C. K., T. Melkonyan, E. Proto, A. Sofianos, and S.T. Trautmann (2020). Reverse Bayesianism: Revising Beliefs in Light of Unforeseen Events. [paper]
PUBLIKATIONEN
---
Becker, C. K., E. Ert, S. T. Trautmann, and G. van de Kuilen (2020). Experiencing Risk: Higher-order Risk Attitudes in Description- and Experience-based Decisions. Journal of Experimental Psychology: Learning, Memory & Cognition, 47, 727-746.
Becker, C., I. Kirchmaier, and S. T. Trautmann (2019). Marriage, Parenthood and Social Network: Subjective Well-Being and Mental Health in Old Age. PLOS ONE 14, e0218704.
Seitenbearbeiter:
E-Mail
Letzte Änderung: 21.01.2022